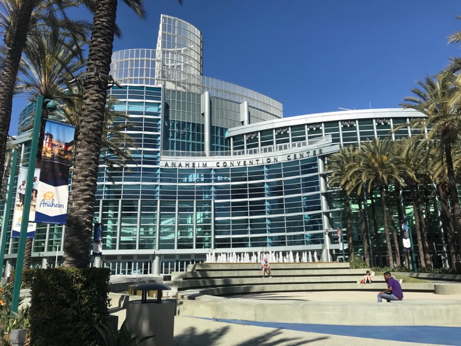 Exhibiting at a conference may be one of the most exciting things a journal editor gets to do. Working under a self-imposed state of isolation for most of the year, editors who have the opportunity to attend a conference get to finally meet face-to-face with the people who matter the most to their publication: its readers.   
This year, the Harborside team was at the Anaheim Convention Center in sunny California from April 11 to 14 for the 44th Annual Oncology Nursing Society (ONS) Congress. At the Harborside booth in the expansive Learning Hall, I got to meet fans of the journal I edit for: the Journal of the Advanced Practitioner in Oncology (JADPRO), a peer-reviewed, indexed scholarly journal that supports critical issues in advanced practice in oncology, and promotes the roles of advanced practitioners (APs; including nurse practitioners, PAs, and pharmacists) on the collaborative care team.
ONS—a conference that brings together over 4,000 attendees around the world—is one of these special occasions where I get to meet the clinicians who read our publications. I also get to introduce our award-winning content to attendees who haven't heard of JADPRO before.
Additionally, I was able to meet prospective authors—many DNP students or postgraduate fellows—as well as attendees interested in serving as our invaluable peer reviewers.
The ONS Congress is also an excellent time to connect nurse practitioners, clinical nurse specialists, and other advanced-practice nurses to high-level continuing education. Even for those who are familiar with the journal (and it seems the numbers are growing with every passing year), many oncology nurses and APs may not be aware of other tailor-made Harborside offerings, such as membership to our professional society, APSHO, and our annual conference, JADPRO Live.
It's clear that the oncology nurses and APs at the ONS Congress went into their field to serve patients. The passion for their craft is intense and contagious. I always feel privileged when they share the challenges they face at their centers—for example, onboarding new ambulatory APs or promoting the value of the AP on clinical trial teams—and feel validated when they cite JADPRO as one of the ways they feel valued and supported in their role. It is so satisfying to see firsthand the impact of the journal—and see its editorial mission made real—but these oncology nurses and APs make a large impact on Harborside's entire mission.