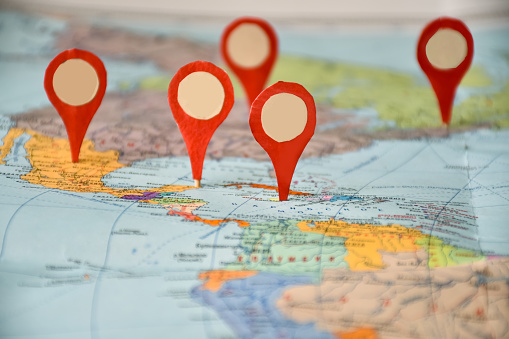 What do a licensed pharmacist, biologist, anthropology major, medical student, investigative reporter, wildland firefighter, high-school teacher, ex-football coach, and video producer have in common? They are all members of a growing and elite team of contributing writers to one of the fastest-growing initiatives in the Harborside galaxy: the online news source JNCCN 360. Initiated in March 2017 with two microsites, JNCCN 360 now houses oncology content for about a dozen tumor-specific microsites—and counting.
The pins on the map representing the diverse areas from which contributing writers to JNCCN 360 come from might appear similar to geographic profiling in a criminal investigation. Obviously, there would be several in the New York area, but also ones in Alaska, Nevada, Illinois, Iowa, Washington, South Carolina, and Texas, to name just a few.
Let's take a closer look at this diverse group of contributing writers to JNCCN 360—those who have in no small way contributed to its success. To this special cadre, I offer my sincere thanks, smile at their growing accomplishments, and will always appreciate the time they shared with JNCCN 360 (whether a lengthy stay or a short visit).
With an MS in natural resources and environmental sciences from the University of Nevada at Reno, CC has served as a research assistant in biogeochemistry as well as a wildland firefighter at Dinosaur National Monument in a small town in the northwest corner of Colorado.
With a degree in journalism from the University of Texas at Austin and an MPH from Tulane University, New Orleans, MB has more than reached her goal of 30 in 30: visiting more than 30 different countries around the world before the age of 30.
Once a sports writer in southern Indiana and an intern at The Oregonian, JF received his graduate degree from Columbia University School of Journalism and currently is a video producer in New York City.
With a BA in political science from Tulane University, KR is a certified science and English teacher who has taught in Metairie, Louisiana, and recently spent a year abroad teaching English in Bangkok.
A licensed pharmacist with a PharmD from the University of Illinois College of Pharmacy, SEC is certified by the American Pharmaceutical Association to provide immunization delivery, and a mother of three school-aged children.
With a degree in journalism from New York University, CLD is a freelance copyeditor with more than 30 years of experience in medical communications who also has published articles in The New York Times and the Chicago Tribune.
With an MS in molecular and cell biology, LH is currently a medical student at the University of Connecticut, Farmington, who also has served as a graduate research assistant and taught introductory biology classes.
With a BA in anthropology and Hispanic Languages & Literature from Stony Brook University, NK worked full time as a medical scribe for a fertility clinic, recently obtained her MPH from Georgetown University, and is now a medical student at Chicago Medical School.
The mother of a toddler, MEF received a BA in anthropology from Brandeis University and an MSc in biology at the University of Washington, Seattle, and also served as a research coordinator at a health system on Long Island.
After receiving a BA from the University of California, Berkeley, and an MS in journalism from Columbia University, HO was a freelance video journalist in Lima, Peru, before moving to Iowa City to work as a reporter for a local newspaper.
A consummate professional science writer of articles for principal investigators to lay health consumers, SML is a certified Editor of Life Sciences, with 12 years of experience in biomedical research and 2 years of experience in a clinical practice.
With a PhD in biology from the University of Washington, Seattle, KMH has served as a scientific manuscript editor at Charles University, Prague, and presented research findings at both institutional and organizational meetings.
With a BA from Dartmouth College and a graduate degree from the Massachusetts Institute of Technology, AN, once a lab manager at the New York Botanical Garden, is a science writer whose articles have appeared in The New York Times, Nature, and Smithsonian.
With a degree in journalism from Stony Brook University, New York, AG also studied at Yeshivat Torat Shraga in Jerusalem and served as a research assistant at the School of Occupational Therapy at Hadassah, Israel.
ST, who holds a BS in molecular and cell biology from the University of Connecticut and an MS in journalism from Stony Brook University, served as a writing intern for a website and newsletter in Fairbanks, Alaska.
A registered dietician, DAE has developed strategies for educating patients, family members, and caregivers on chronic kidney disease, transplant, and dialysis, as well as served as a family and consumer science teacher in public schools on Long Island.
With an MMSc from Midwestern University, Glendale, Arizona, JEMS is a certified physician assistant with clinical practice experience in nephrology as well as a special interest in end-stage kidney disease, renal cell carcinoma, and hemodialysis.
A PhD candidate at the University of Washington, Seattle, who received his BS in biology from the University of Northwestern, St. Paul, JS has served in many biology research labs in several states and is a member of the Society of Developmental Biology.
A Columbia University graduate, MJR previously served as an assignment editor for The Washington Post in international affairs, a reporter for Mother Jones, and Middle East Bureau Chief of The Huffington Post in Beirut.
With a long and successful career in medical communications, MM currently balances her passion for science writing and interviewing key opinion leaders in oncology with her desire to spend quality time with her grandson.
With an MS in journalism and a BS in education, JC continues to reinvent himself professionally, with a host of previous career titles ranging from high school English teacher, football/baseball coach, and Editorial Director of two different pharmacy journals.
As JNCCN 360 moves into its fourth year in 2020 and continues to expand its scope, we can only wonder where the next set of pins on the geographic map of contributing writers will appear. The possibilities are limitless.